I have my moments... of craftiness. It's usually of the digital kind but. ...As my husband likes to say...I'm a computer geek. (he says it in the most loving way I assure you...maybe even a little envious..but I digress)
I have a handy dandy Cricut machine that I LOVE to get out and use to make homemade cards or crafts. I have a sewing machine that rarely gets used..(I have guilt). I need ideas and inspiration to get me going...
Because I'm not one of those- "naturally" crafty people..you know the ones who Go to Canton Trade Days or Hobby Lobby and see a cool thing they want in their house then go home and recreate it for less than 1/2 the cost. Yeah..I'm not one of those people. I need a pattern, I need step by step instructions. I don't mind taking the time to make something homemade...I enjoy it actually...but GIVE ME INSTRUCTIONS! I can't create these things out of thin air...it's just not in my DNA..it's not..I'm most certainly lacking the "create things from thin air" gene when it comes to crafts. (now cooking that's a different ballgame!)
Instead- I peruse the internet...researching looking for cool crafty creatively inspiring websites. And..since it's not my nature to be selfish...well not without cool crafty creatively inspiring websites anyway! I thought I'd share some that are my favorites , right here...on Mommily Ever After..I'm also including some great websites that give fun ideas for hosting parties and get togethers...I JUST LOVE THIS STUFF....it's a website -sharing- orama ...Here you go: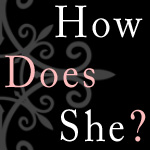 click picture to go to website
click Picture to go to website
I would absolutely love to hear what websites you find useful. For ideas on Birthday crafts, gift crafts, home decor, teacher appreciation etc... Please do tell!!